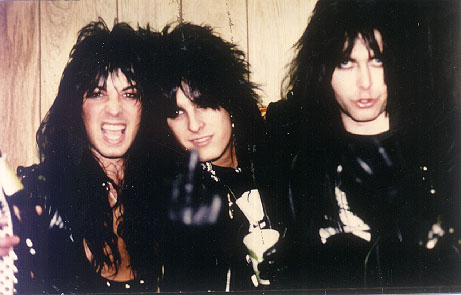 (L-R) Rik Fox, Nikki Sixx, Blackie Lawless



Tales from the Foxhole
- Rik Fox




Q: I wanna thank you for that great interview with Rik Fox!! Best interview online so far! Please can you send him this message? Thank you
Hello Rik. Wow, what a great interview you did with those guys!.

RIK: Thanks Much, Glad you enjoyed it.

Q: I really enjoyed all those stories about WASP, Nikki Sixx, Vinnie Vincent etc...,cool stuff, and the pictures are Awesome!, i love them!!

RIK: Glad you're having a blast with it.

Q: Specially the pictures with Mark "The Animal" Mendoza, Ace Frehley and Axl!.

RIK: Mark Was always the most coolest member of Twisted Sister to me, Like a Big Brother, Eddie Ojeda was cool too. Dee Snider always had an attitude against me for some reason. He kept referring to me as a poser. That was long before I was in WASP, and STEELER & SIN. Mark used to tell Dee to "Back off and leave Rik alone!" That was SO cool...

Q: Thanks for sharing them!.

RIK: It was my pleasure to share them with you & the world.

Q: I wanna ask you a question about my favourtie band, Hanoi Rocks. Maybe you have a story to share with me about Michael Monroe? I would like to know if you ever met him, or played with him or hung out with him? I`m all ears about it!!!

RIK: Hmmm, sorry, no, I never did get to meet Michael Monroe.

Q: any other Hanoi/Andy Mccoy/Sami Yaffa/Nasty Suicide/related story is really welcome.

RIK: Well, I did meet Sammy Yaffa when he joined JetBoy, who were good friends of mine. sami was very nice and polite to me, but I didn't get to know him very well.

Q: Did you like them?

RIK: Sure, they're good. Very influential on many bands who copy their style.
Click Here, to ask Rik a question
(All Questions will be forwarded to Rik)

Back to Rik Fox Feature Topics

Read our Interview w/ Steeler / SIN bassist Rik Fox Part I
Rik Fox Part II
Rik Fox Part III


Search Fibits for Steeler cd's



Other Recommended Music:
Steeler Self-titled CD
STARZ Violation CD
STARZ Self-titled CD
STARZ Coliseum Rock CD
STARZ Attention Shoppers CD
W.A.S.P. Self-titled CD